Novel methods to quantify dissolution rates of construction materials

The research describes the first application of vertical scanning interferometry (VSI) as a means to quantify the dissolution dynamics of cement based minerals. The outcomes of the work develop valuable inputs required for the simulation of cement hydration and forward a comprehensive method to correlate aspects relevant to the composition, structure and reactivity of cement based materials.


---
Density Functional Theory (DFT) based calculations to optimize reactivity of clinker phases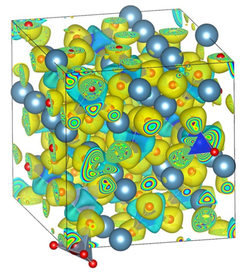 The research applies density functional theory (DFT), to understand the role of defects on the structure and reactivity of complex oxides, with special applications to portland cement. Insights obtained from DFT simulations are expected to guide and inform new green-synthesis routes, to produce highly efficient cement chemistries. The DFT simulations link to experimental assessments of the water sensitivity of cement minerals.


---
Development of methods based on "Inertial Microfluidics" to separate inorganic particles on the basis of their sizes

This research describes the use of Intertial Microfluidics to separate particles on the basis of their sizes. The work is being developed to generate nearly mono-sized particle size distributions of inorgnanic and cement based systems. Results from this work describe the roles of original particle size range, flow-rate, suspension properties etc. on the efficiency of particle separation.
---
The "Filler Effect": Addition of Supplementary Cementitous Materials to enhance reactivity and performance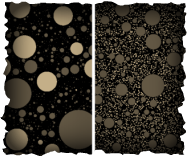 The research describes the influence of surface area and mineral type (i.e., quartz or limestone) on cement reaction rates. Simulations demonstrate that the extent of the acceleration is linked to the:
magnitude of surface area increase,
the interfacial properties of the filler which alters (increases or decreases) its tendency to serve as a nucleant and the composition of the filler, and
the tendency for its ionic constituents to participate in ion exchange reactions with the calcium silicate hydrate product.
The research correlates and unifies the fundamental parameters that drive the filler effect and provides a detailed mechanistic understanding of the influence of filler agents on cementitious reaction rates.
---
Development of simple analytical tools to predict reaction and property evolution in low-cement binders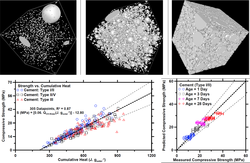 This work develops simple models to predict the effect of particle size classified limestone on hydration reactions and compressive strength development. The method builds on a relativistic basis, such that enhancements and alterations in reactions and properties are described in relation to a given control (pure cement) mixture. The prediction method considers aspects such as: (1) accelerations in reactions, (2) changes in inter-particle spacing as linked to the limestone filler's fineness and (3) a porosity increase with increasing cement replacement. The predictive power of the approach is demonstrated for a variety of mixtures composed using three ASTM C150 compliant cements and forwards a basis for developing mixture proportioning strategies, such that apriori estimations of the mixture response (reaction rate and mechanical properties) can be used to optimize binder proportioning and thus strategize new methods to limit cement use in concrete construction applications.
---
Reactive Limestone as a Strategy Towards Low-Clinker Factor Cements


This research focuses on strategies to develop methods of production of low clinker factor cements and mixture proportioning concepts to produce low-cost/high performance concretes and eventually the development of clinkers designed to accomplish suitable levels of durability, strength and/or microstructure configuration.

---
Experimental and Computational studies to describe and predict
fluid-and-ion transport in mature cement based systems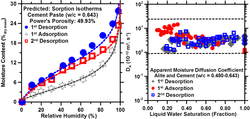 This work describes and highlights multicycle determinations of water vapor adsorption-desorption isotherms acquired using a custom-built DVS analyzer for well-hydrated alite and cement pastes, over a range of w/c. Special focus is paid to describe measurement aspects relevant to acquiring reliable spectra, and their interpretation. Analysis of kinetic curves is used to better understand asymptotic wetting-and-drying behavior. The sorption spectra are used to assess pore features relevant to movement of moisture and gases and substantiate the application of the BET method to surface area analysis of cementing materials. Several models are used to analytically describe the measured sorption spectra, including the effects of sorption hysteresis. Detailed sensitivity analyses carried on the models is used to indicate the role of parameters including: total porosity, w/c and solid surface area on the magnitude of hysteresis that develops.

---
Prehydration of Ordinary Portland Cement and its Mitigation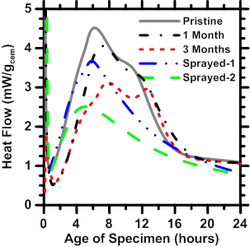 Upon premature exposure to water, ordinary Portland cement prehydrates, where a layer of hydration product forms upon and coats cement grains. As illustrated in the figure, the prehydration layer heavily reduces reactivity of the cement. This reduction has implications on mechanical properties of cement, especially strength. Prehydrated systems show lower degrees of reaction along with lower compressive strength when compared to pristine systems. This disparity is even more pronounced when prehydration occurs with liquid water (as opposed to water vapor). Mitigation techniques, including use of limestone, are currently being tested.




---